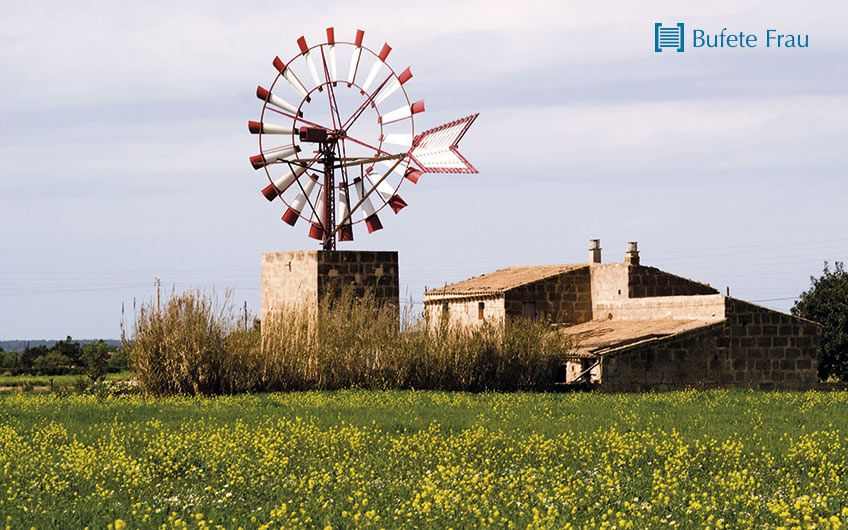 Although it is not an easy question to answer due to the complexity of the subject, in this post we will try to give you some indications that can help you to know if you can build or not on a rustic plot of land in Mallorca. However, it is also necessary to point out that there is not only one type of rustic land in Mallorca, but that the classification is much broader depending on the characteristics and level of protection of this land and that it will also be necessary to review the municipal regulations. Let us focus on the study of the Territorial Plan of Mallorca. In its regulation 19.3, in principle, it places limitations on the construction of single-family detached houses in the Natural Areas of Special Interest of High Level of Protection (AANP), Natural Areas of Special Interest (ANEI), Rural Areas of Forest Landscape Interest (ARIP-B), Areas of Territorial Protection (APT) and Areas of Transition of Growth (AT-C). In the rest of the zones, it is conditional upon compliance with the requirements established in regulation 20, with the particularity that in the Areas of Risk Prevention (ARC), a prior favourable report from the competent environmental administration is also required in order to be able to build a house on this land. This regulation establishes the following conditions:
Firstly, it must not be prohibited by the general planning in the area where it is intended to be built. But what are these general plans? It is clear from art. 35.1 of the Law on Land Use and Planning (LOUS) that they are the planning instruments that cover the entire municipal area and that classify the type of land for the establishment of the corresponding legal regime; they define the fundamental elements of the general and organic structure and establish the forecasts or priorities for its development and execution, as well as deadlines and conditions for its revision. In other words, we must always refer to the General Plan of the municipality in which our plot is located to find out whether or not it is possible. In this report, however, we will only analyse the Territorial Plan of Mallorca, not the general plans of the various municipalities.
It will only be possible to build one detached single-family house per plot, and this also applies to Rural Areas of Landscape Interest (ARIP).
If it involves a new construction or a change of use of existing ones, it will be governed by the following rules:(a) Plots in Suelo rústico de Régimen General Forestal (SRG-F) and in ARIP must have at least an area of 50,000 m2.(b) In Suelo rústico de Régimen General (SRG), Areas of Agricultural Interest (AIA) and in Areas of Transition of Harmonisation (AT-H), 14,000 m2 are required.
As for the date of division, segregation or fragmentation of the plot (accredited by means of a public document), it is important to take it into account in order to know if the plot is buildable and if it is in one of the following cases:
Prior to 16/07/1997
It can be built on if it complies with the minimum buildable plot regulations.
Condition: The property must not have undergone any changes after this date.
A public document prior to this date must be provided.
From 16/07/1997 to 13/10/1999
Compliance with minimum buildable plot regulations.
That the division, segmentation or parcelling has not taken place simultaneously or successively in more than five
independent registry units (excluding the parent property). Unless:
Subsequently, grouping has been carried out below this limit.
That they are actions covered in the following section.
After 13/10/1999
Only plots of land resulting from a first division, segregation or subdivision carried out by virtue of a donation from parents to children or to children of pre-deceased children or as a result of an inheritance between parents and children can be built on.
In order to benefit from the division, the property must be in the estate of the donor or transferor (in the case of inheritance, before 18 January 2004).
These indications can give us an approximation of the possibility or not of being able to build on a rustic plot. But it is vital to study each case and consult a legal team with expertise in this area, as well as architects. Once we know that we can build, we continue with the study of the norm, we arrive at number 22, which gives us the following conditions on construction:
The maximum buildable area is 2% in ANEI, ARIP, APR, APT, SRG-F and AIA; and 3% in the rest.
The percentage of occupation is 3% in ANEI, ARIP, APR, APT, SRG-F and AIA; and 4% in the rest.
The maximum height shall be the lesser of a) two storeys or b) eight metres from the ground floor to the top of the roof.
The total surface area of porches may not exceed 20% of the occupied surface area of the rest of the building.
There are other urban planning conditions to take into account, of course, but as we have already mentioned, it is very important to seek professional advice on this matter, as the regulations are complex and dispersed in different instruments. On the other hand, it is worth mentioning that a new draft of the Urban Planning Law of the Balearic Islands has been presented, which would repeal the LOUS and on which Bufete Frau is already working to keep you up to date with the legal news. We will shortly publish our report on the matter.